佐井寺のハナレ
Hanare in Saidera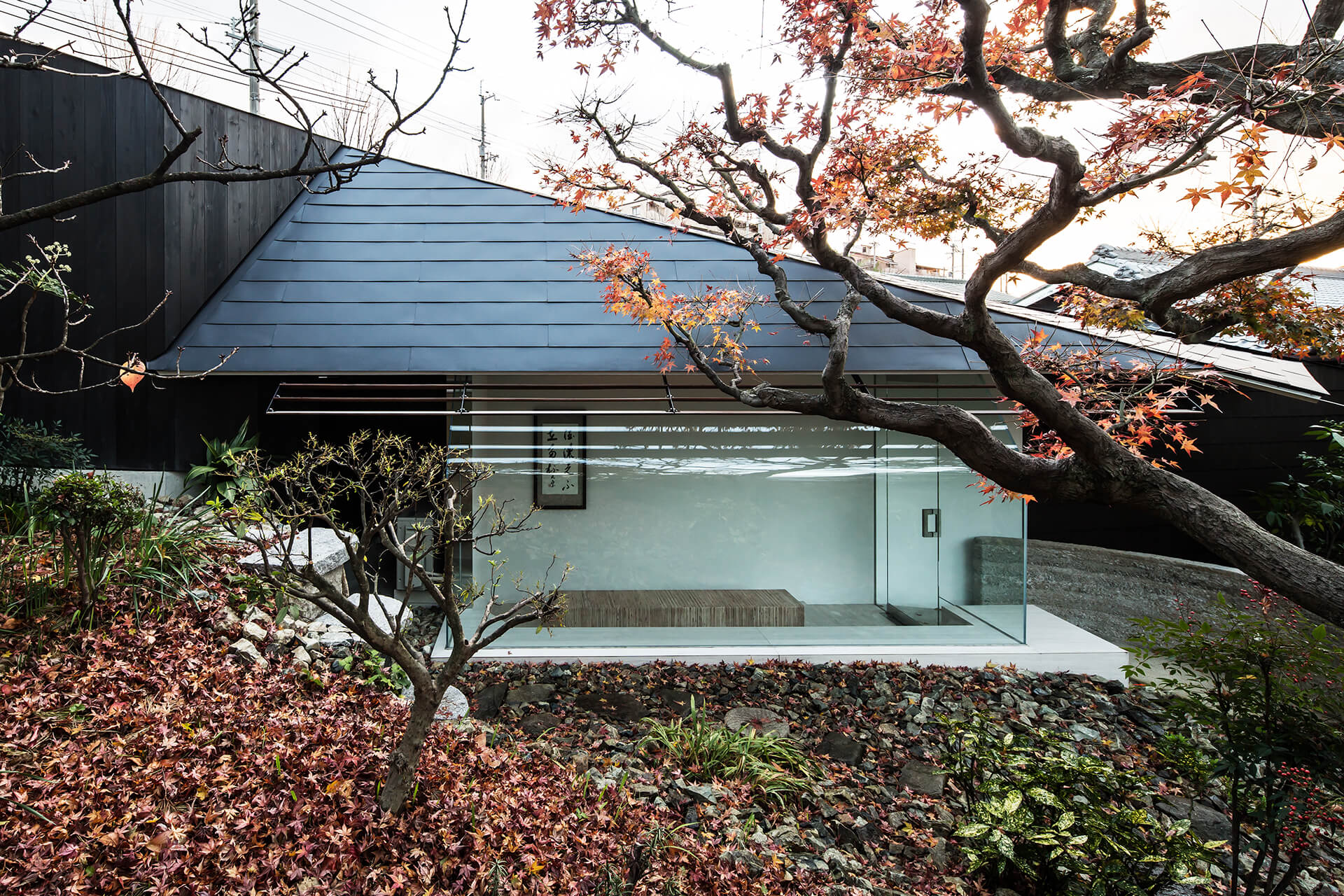 「チヌと紅葉と酒」
敷地は大阪の郊外、区画整理で切り開かれた住宅地にある古い御屋敷である。区画整理前は丘陵地で、100年は悠に越えた木々が数多く残っており、周囲の喧騒から隔たれた自然の風景を今も保っている。老築化した塀を作り変えたいという依頼であったが、庭の中心に枝ぶりの良い紅葉の古木があったことから、それを座敷の反対側から眺める「ハナレ」の併設を提案した。
The location is in a suburb of Osaka and the estate is in a master-planned residential area. Prior to master-planning, the site was in a mountain, so its topography is rich and even now the native trees are still standing, and the garden retains its rich natural landscape.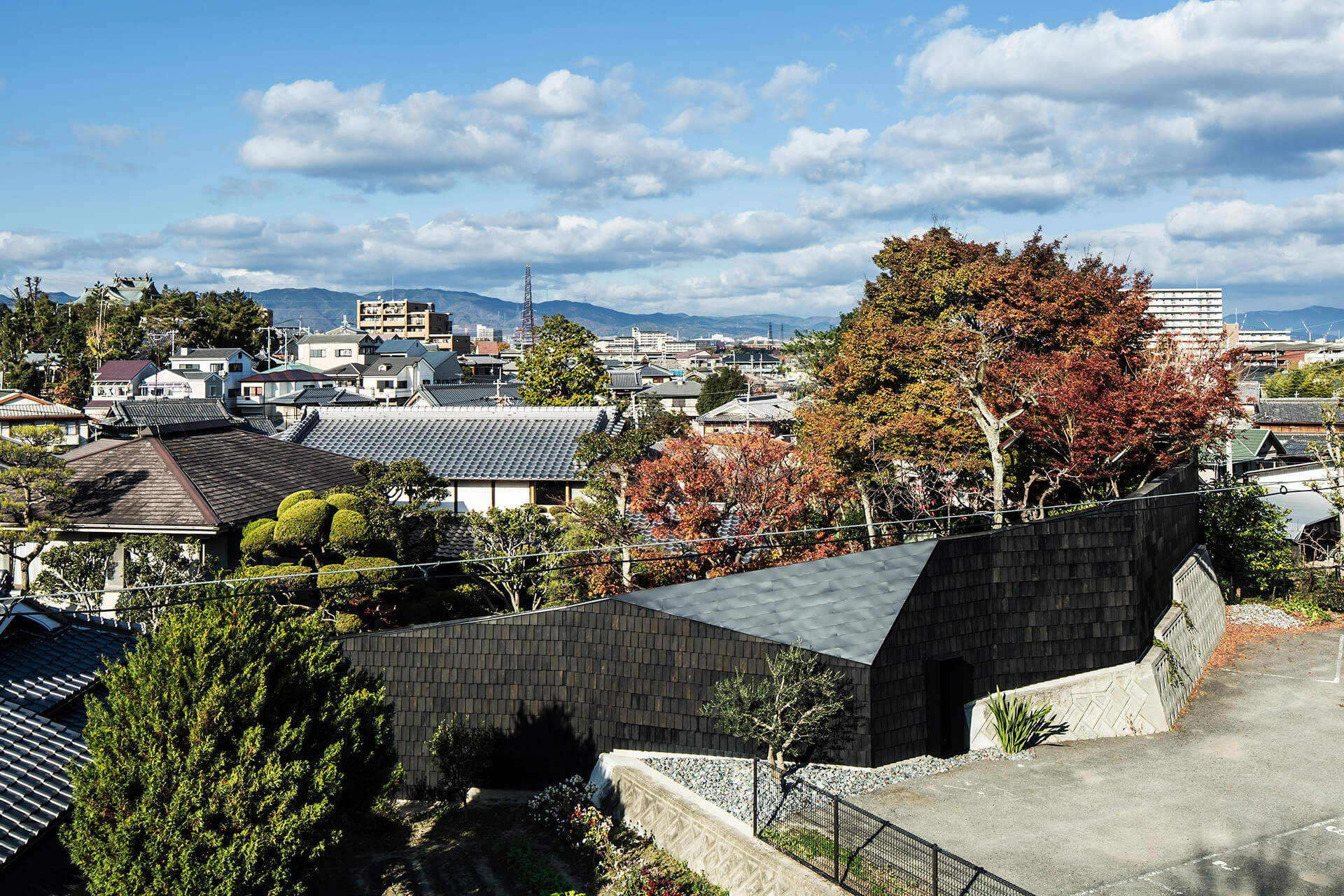 良寛は「裏を見せ、表を見せて散る紅葉かな」という句を詠んだ。そのことから、塀と繋がるハナレの寄付きは法面の下方にあり、中に進むにつれて、紅葉を見上げることができる半地下とした。建築の形態は高低差のある地形を活かすため、稜線が折れるある一点を境に、塀部分からハナレ部分の屋根勾配まで同じ角度で繋げられている。そのことによって、塀らしくない連続する彫刻的な造形とした。 その特性が変化に富んだ造形と相性が良いこと、季節や時刻によって様々な陰影が生まれることから、外壁を杉板の鱗張りとした。
The project is the renewal of the old fence. However, we also proposed a "Hanare", an annex, for viewing an old Japanese maple tree with graceful branches located in the center of the garden. The client is a master of calligraphy and the Hanare will be used as a gallery of her works.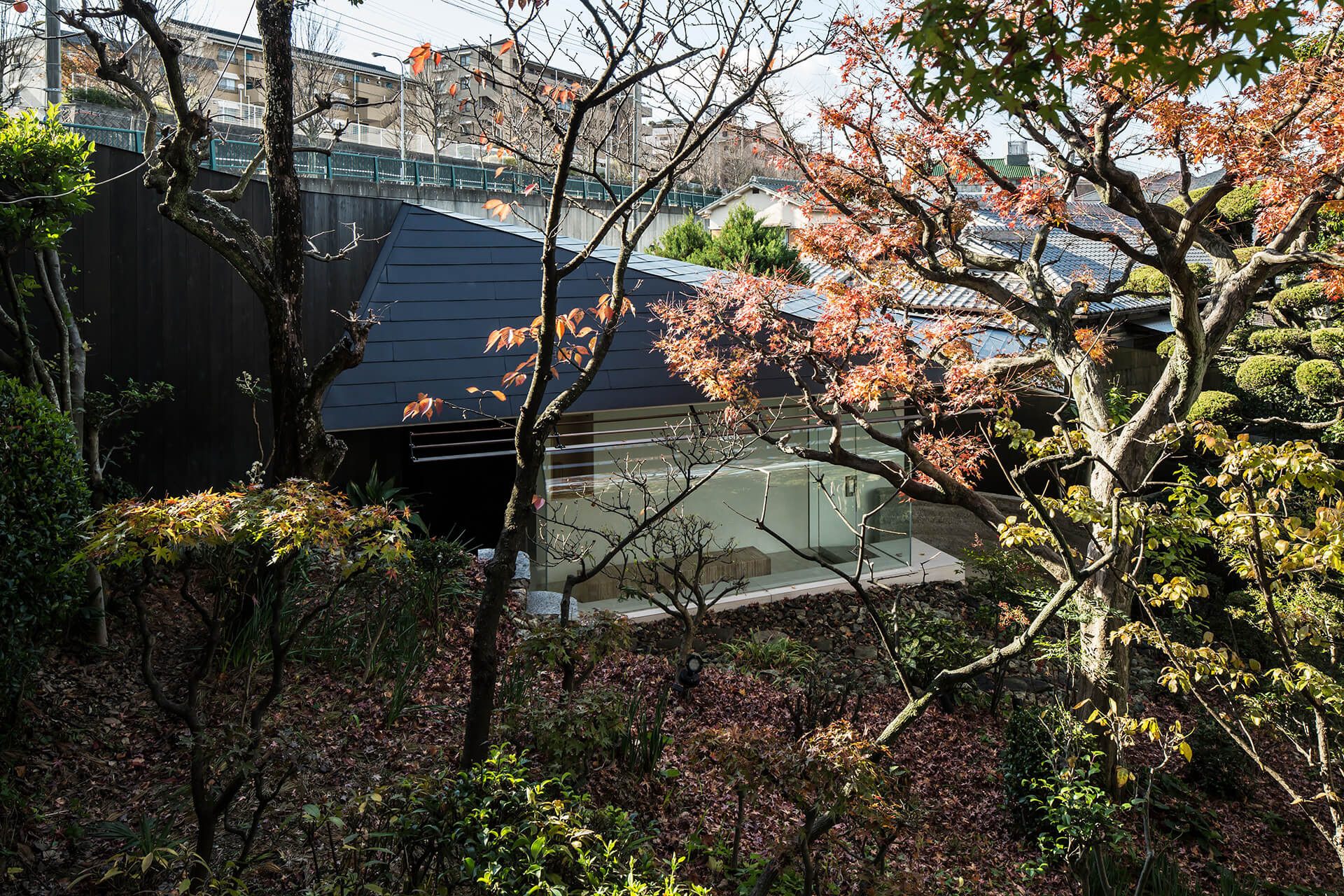 「酒濃元不多杯」
本来は諺らしいが、禅僧の間でもよく使われていたようであり、クライアントがこの「ハナレ」のために書として書かれた。 酒の本来の旨さは杯を多く重ねることではない。僅かでも良いからゆったりと独り閑かに呑むか、肚知り合った知己を迎えて心置きなく呑む時に酒の味わいは濃やかになり、心に染み渡るものである。何事も数の多いのが良いとは限らない、ということを意味する。この風の音しか聴こえない静寂の空間で酌み交わされる人と人との交わりがそのようであって欲しいと切に願う。
"Showing the back, showing the front of the falling autumun leaves"
It is most beautiful to view the autumn leaves from below just before it falls. The opening of the Hanare is below a slope, and the inside level is semi-underground where you can just look up to see the autumn leaves.
Rammed earth
In order to utilize the raw materials of the land and reduce waste soil, the approaching low partition and excavated soil was reused to create an R-type rammed earth foundation.
Scaly Fence
Like the Namako wall (1) and the Seigaiha pattern (2), these designs are interesting because of the repeating pattern. The outer fence, by pasting cedar boards in a scale-like pattern ("squamiform"), creates various shades by the passing of time and seasonal changes, which shows a unique expression.
(1) Traditional Namako walls, distinguished by a white grid pattern on black slate, are made of tiles called "kawara" and cement plaster. These elaborately-crafted walls of geometric design had only been made by skilled craftsmen in Japan. Its peculiar name, "namako" means "sea slug," and the namako wall is so named because the arched shape of the cement plaster looks like a sea slug.
(2) Seigaiha literally means "blue wave of the sea", which is a pattern consisting of concentric circles that overlap to only show the top portion of each circle.
"The rich flavor of liquor is not attained by many drinks"
This originally seems to have been a proverb which had been used often between Zen monks. This work of calligraphy was created by the client specifically for the Hanare. One cannot savor the deliciousness of sake ("rice wine") by just drinking more liquor. When you relax and enjoy drinking sake alone, even if there is little sake, or you drink sake freely with close friends, the taste of sake becomes heartfelt and you can feel deeply satisfied. It means that meeting many people is not necessarily better. We sincerely hope that people visiting this calm space where only the sound of the wind can be heard, will be in good spirits with each other.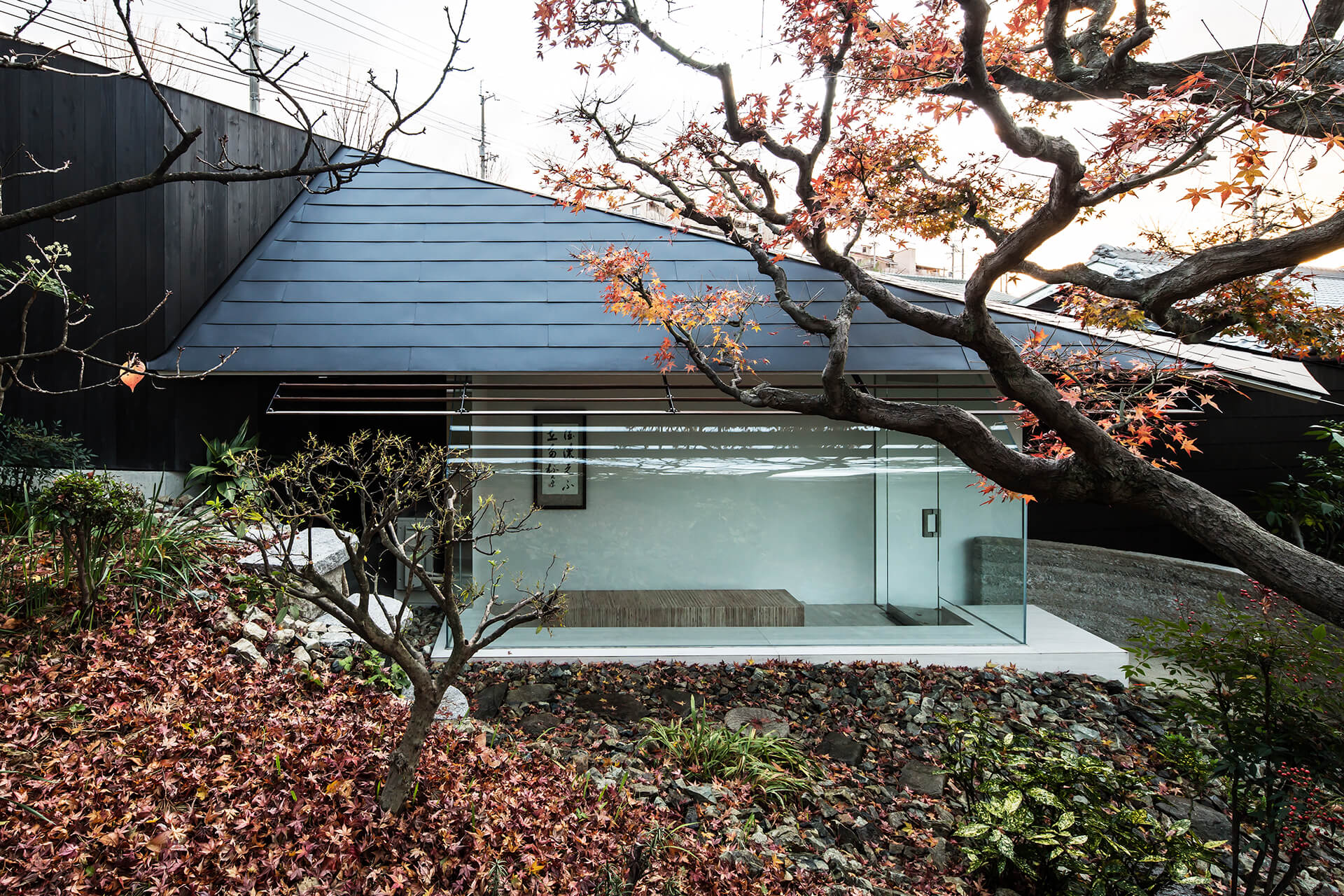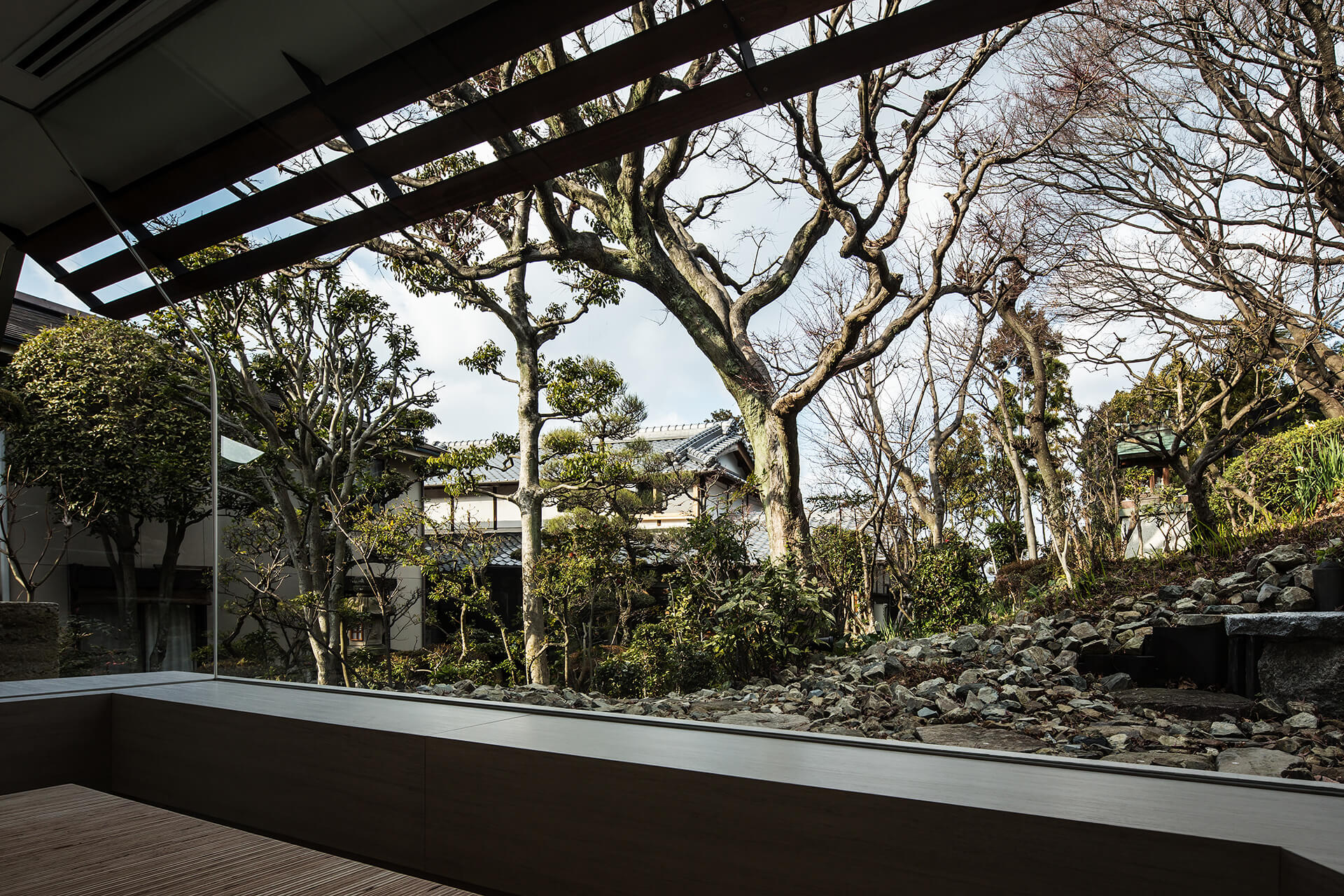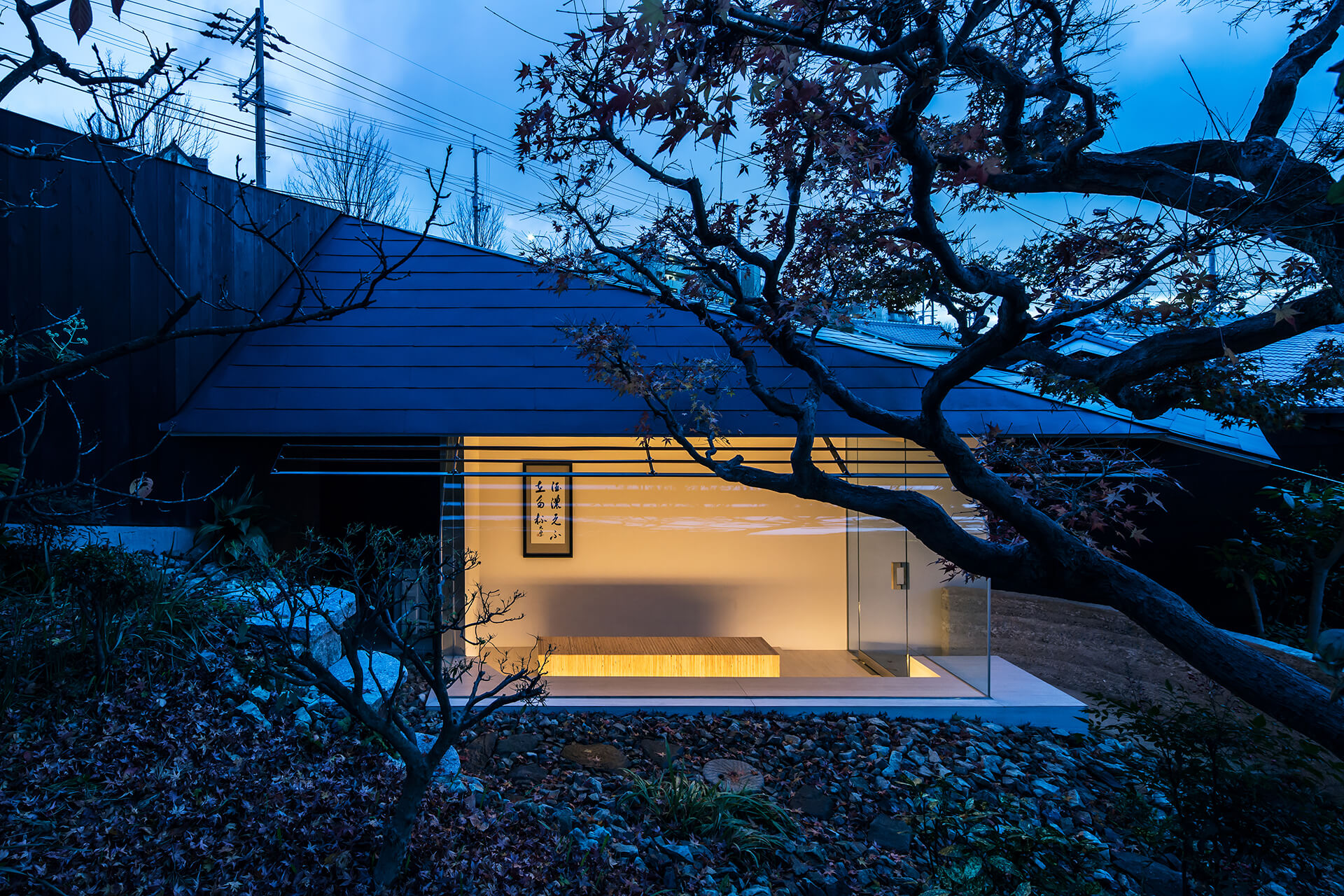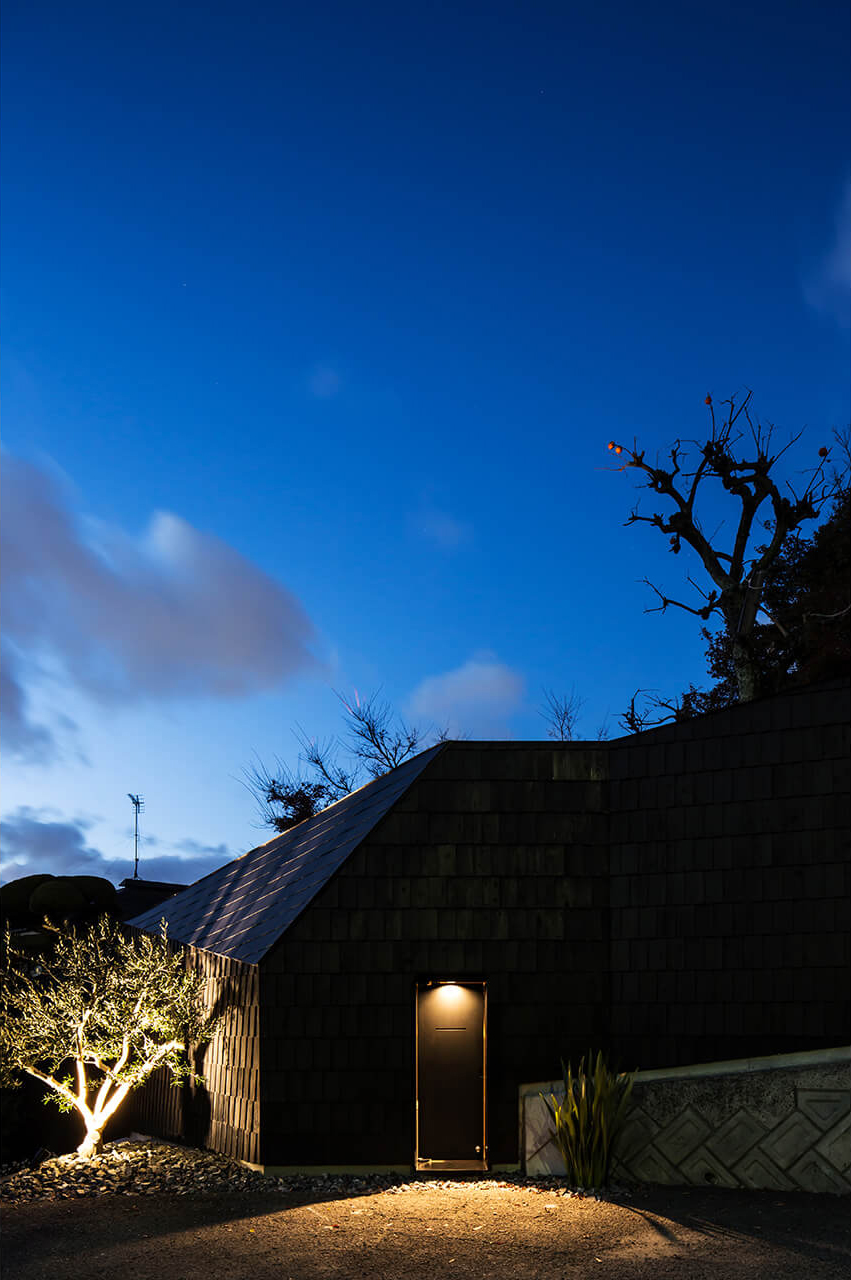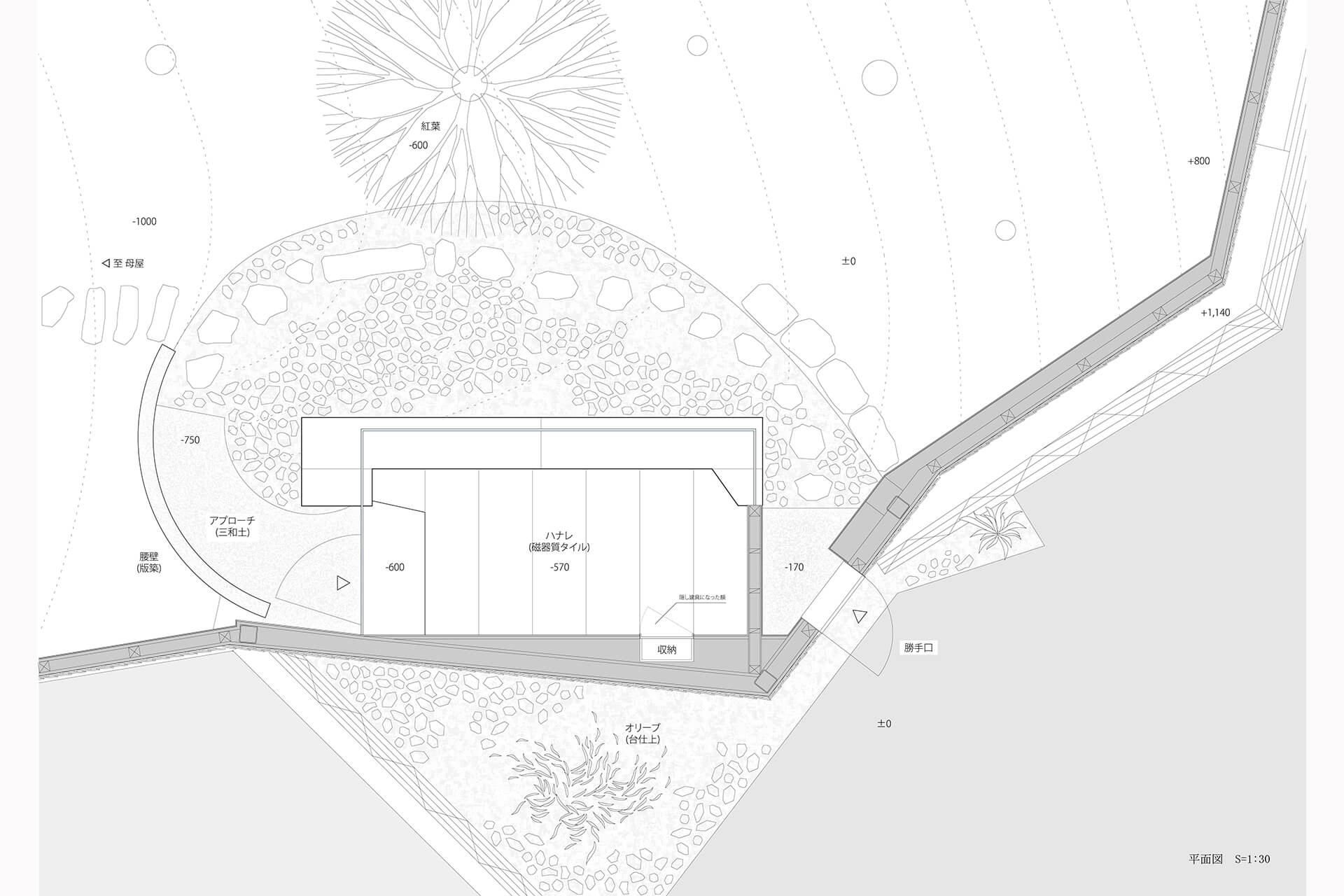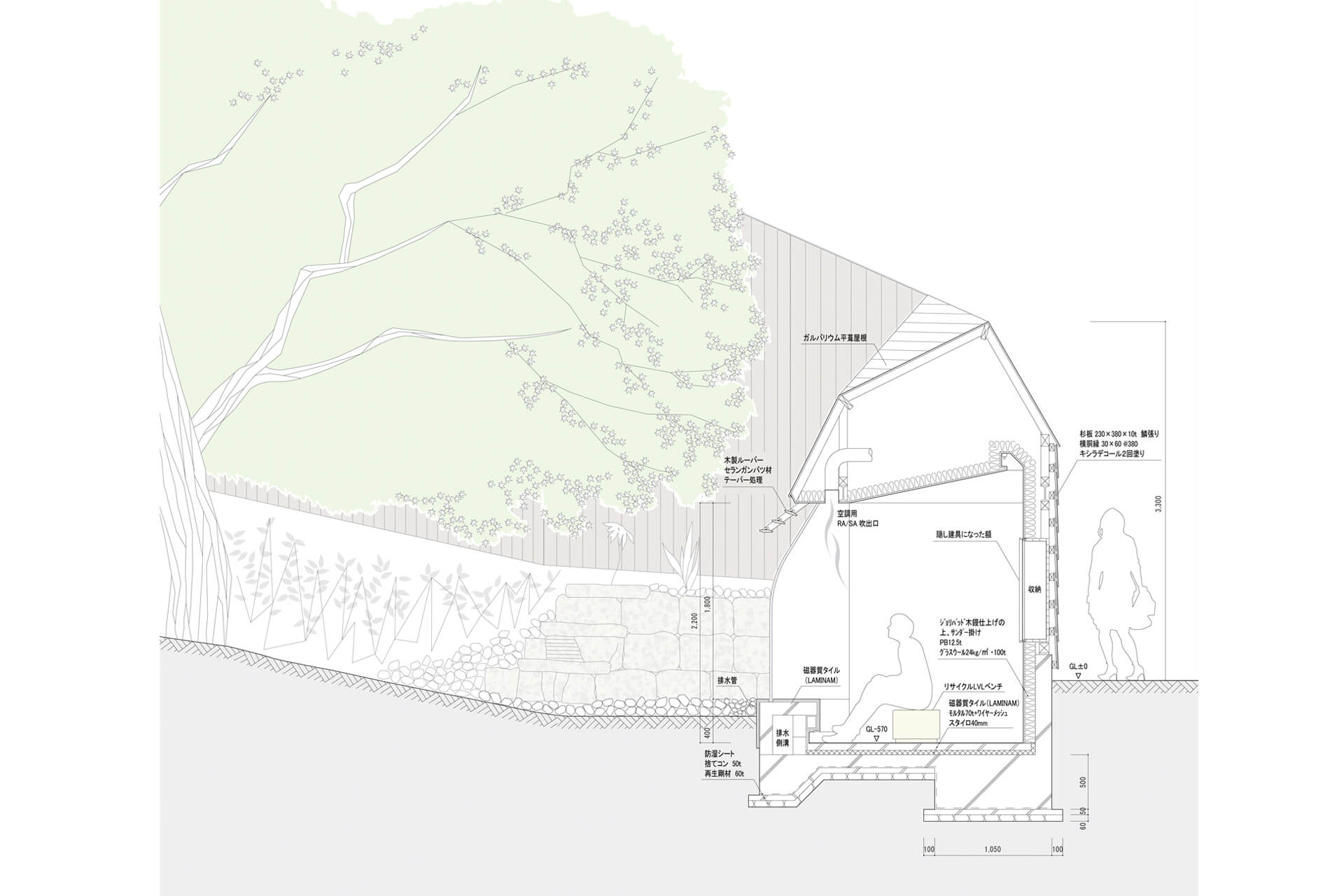 所在地

大阪

用途

ギャラリー

構造

木造+鉄骨造

敷地面積

約2000㎡

延べ面積

9.12㎡

施工

株式会社エムエス工務

構造計画

Design Direct 堀内則重

照明計画

Durandal 石堂伸悟

撮影

笹の倉舎 笹倉洋平

掲載誌

新建築2015.7月号